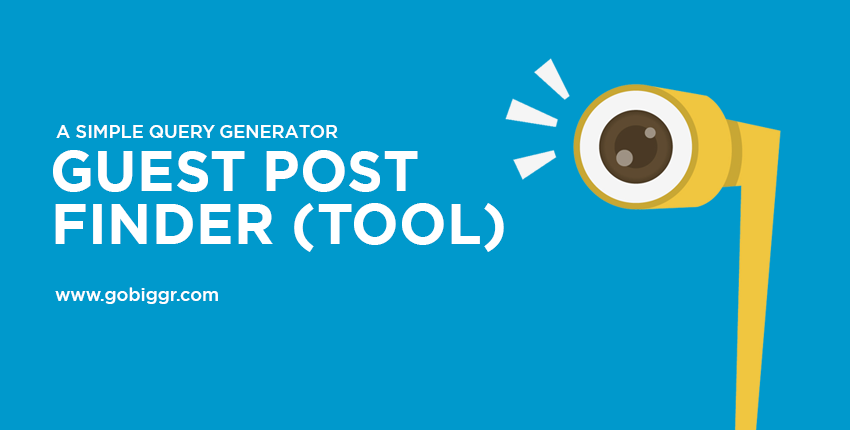 Simple Guest Post Finder (Query Tool)
Guest posting is a difficult task, with recent updates and emphasis of Google against guest posting, fewer and fewer blogs are now accepting guest posts. Finding websites that accept guest posts has become a difficult job for link builders.
We are sharing to your our simple guest post finder tool. This tool allows you to find guest post opportunities by simply adding your keywords on column A and the tool generates clickable search queries that you can use to find your next guest posting gig.
Here is how the tool functions: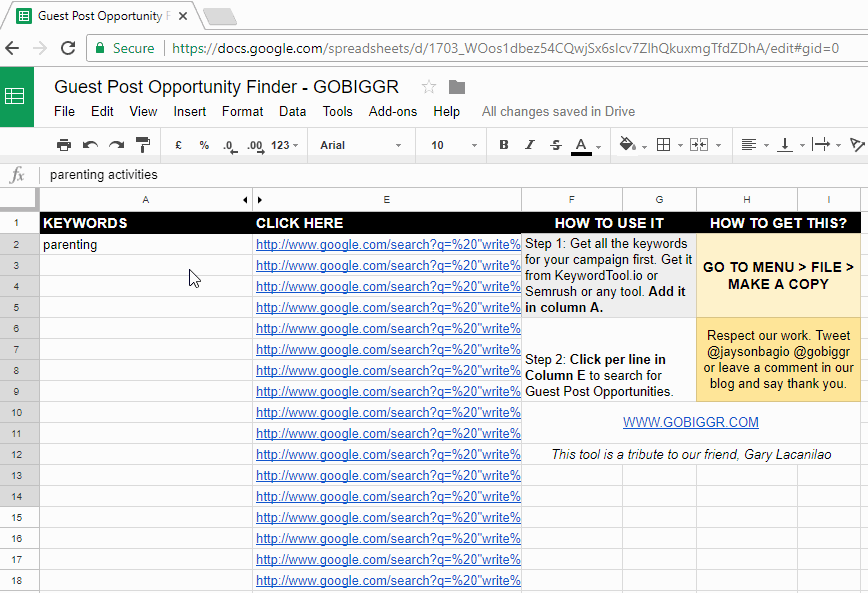 You can download the tool by using this link – GET THE TOOL
How to Use the Tool
1. Go to column A for the keywords section.
2. Add your keywords to column A.
3. Choose the keyword you want to work on.
4. Click the column E (matching the keyword you want to work on).
5. Google Search will open upon click.
How to Download the Tool
1. Get the tool from this link – here
2. Go to the menu and click FILE
3. Then choose MAKE A COPY
4. Save your own tool in your Google Drive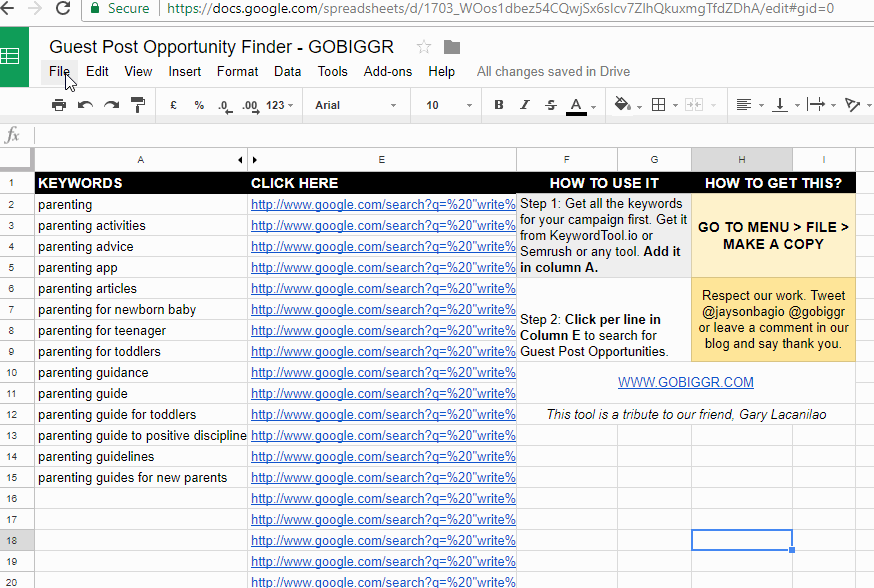 Where to get the keywords?
You can get the keywords for your campaign from any SEO tool. We use SEMrush and KeywordTool.io to collect keywords. You can also get keywords from trends and Google keyword planner.
The technique is to put all your keywords on a spreadsheet or notepad, clean it from irrelevant keywords like product based searches and instead focus on informative searches like "how to", "guides", "tips", etc. Since you are doing guest posting, most product searches have nothing to do with informative content.
Guest Posting Tips & Links
There are a lot of guest post guides on the Internet, but most of our strategies are based from these awesome peeps:
1. 50 Guest Posting Mistakes of a #RookieSEO – our very own blog post on the mistakes you should avoid. Great guide for rookies and newbies in guest posting and outreach link building in general.
2. Email Outreach: Guest Posting Tips & Example – email outreach is the core of our guest posting outreach. We do things manually, so relationship building is an important skill we need to develop.
3. Master The Four Pillars of Guest Posting – guest posting from link prospecting to relationship building. This is how we roll!
4. How To Avoid Getting Penalized in Using Guest Posting – are you afraid of the penalty hammer? Guest posting isn't the problem; it's how people do it that makes it irksome to Google's eyes. Do it nice and clean — this guide is a great reference to avoid penalties!
This tool was created with the help of our good friend Gary Lacanilao in 2012, for SEOteky's Search Query Generator for Guest Blogging.