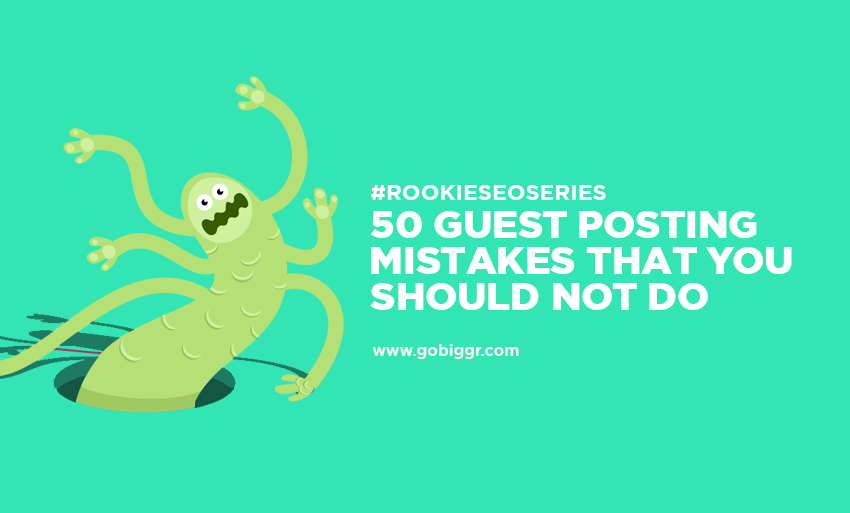 #TheRookieSEO: 50 Guest Blogging Mistakes That You Should Not Do
Guest blogging has become a staple in almost every marketer's link building strategy; despite Google's warning on this link building tactic, thousands of bloggers of every size still accept guest post submissions.
Here at GOBIGGR, we believe that guest blogging is only as effective as the one doing it, so we decided to come up with our own list of guest blogging mistakes that are based on our experience in executing different campaigns under guest posting.
Being a rookie in this industry, we shouldn't shrug off our mistakes. Instead, let's learn from these to keep our game running at an optimal level. These mistakes may be committed by a rookie, but pros in the business aren't exempted from these from time to time.


These mistakes shall cover the four pillars (stages) of every link building campaign.
Link Prospecting
Collecting link prospects is the first step to guest blogging. Since we're looking for links that will be important for our client, mistakes like these should be avoided to deliver valuable output that matches our clients' needs:

1. Collecting link prospects from a list of guest posting sites (content farm and PBN).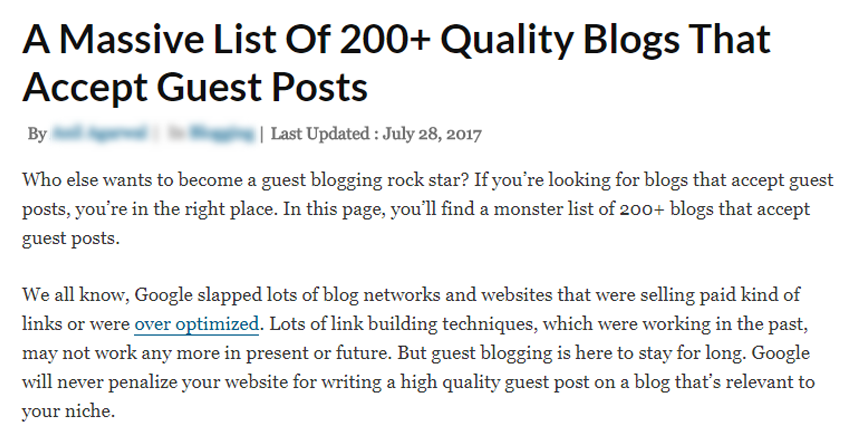 The problem with these lists is that many link builders are using it already. Blog owners and webmasters get tons of emails and could delay your efforts due to overwhelming guest posts requests. We also believe that this kind of guest posting could hurt you in some way that Google consider these sites as link farms in the near future.

2. Collecting just about any kind of prospect that's irrelevant to your client's niche.
3. Collecting link prospects and not storing them properly in a spreadsheet.
4. Sticking with the same keywords while link prospecting.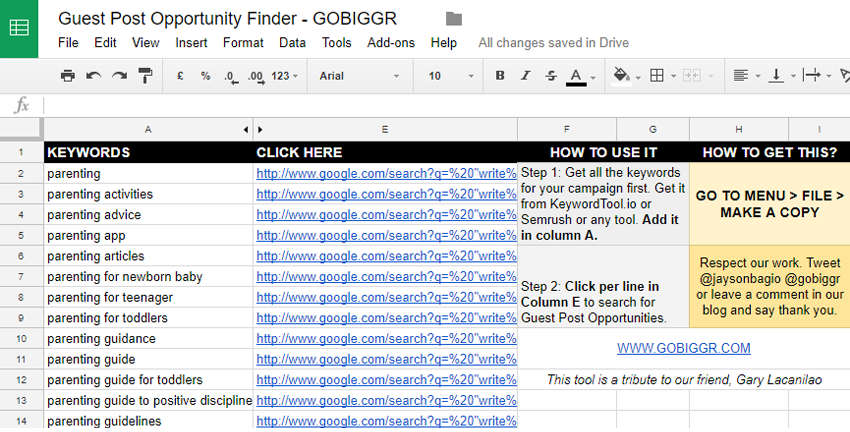 Try use our guest post finder tool. Get your list of keywords and work with it! CLICK HERE TO EXPLORE.

5. Collecting prospects that no longer accept guest posts.
6. Considering prospects that don't give a do-follow link.
7. Collecting a prospect with a very low domain authority or base metrics.
8. Not maximizing other ways to find guest posting prospects.
9. Not filling in the details about your prospect in your spreadsheet.
10. Wasting prospects because you haven't emailed them ever since.

Email Outreach
As KaiserTheSage mentioned in his previous blog post, outreach is the most tedious part of the process; it is unsurprising that we're prone to a lot of mistakes when doing our outreach, so be mindful of the following:

11. You've sent an email with a blank subject line.
12. You've sent an email without the proper subject line indicated in the guest post guidelines.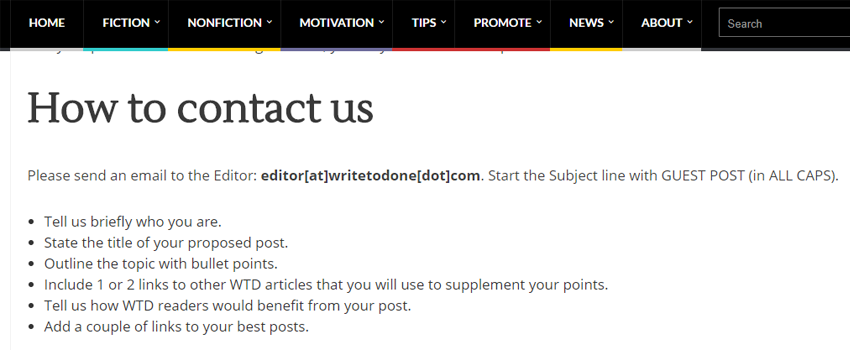 Always check if the target website has a guest posting guideline. Follow simple rules!

13. Using the inappropriate email salutation for your prospect
14. Appearing sexist in your email
15. Calling the blog owner with a wrong name
16. Emailing while the blogger is asleep
17. Emailing the blogger or site administrator on off-days: during the weekends or non-office hours
18. Wrong URLs in the email pitch
19. Ooops! You forgot to "X" your mail tracker




If you are using this tool (which you should), it allows you to track your email if it was opened already or got lost somewhere. It has a free version that you can use, just remove (x) the signature to make sure that your email recipient doesn't notice that you are tracking them.

20. You put the wrong persona name or your name in your email signature
21. Pitching to a site that is no longer updating their blog for a year now
22. Pitching content ideas that they already covered in the blog
23. Pitching a content idea that is not related to the blog
24. Pitching twice to a blogger instead of following it up
25. Pitched content ideas through their contact form without taking note of what you pitched.
26. You sent an outreach to the blog owner without including your post/content idea.
27. You've pitched your content to a blog site that doesn't link to external sites.
28. You pitched a topic that is so boring.
29. You've been pitching the same topic for every prospect too many times now.
30. Calling the blog owner by their nickname upon first outreach.
31. You forgot to spell-check your email outreach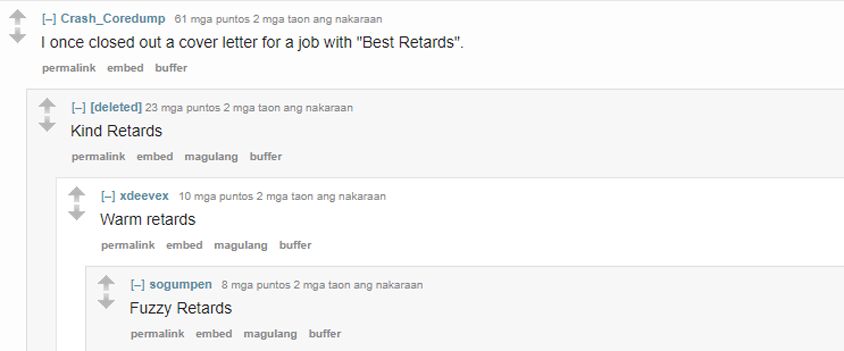 32. Super friendly emails — insults blog owner
33. Basic your and you're mistakes



Content Development
Creating, editing, and publishing the content seems the easiest, but it is our responsibility to ascertain that certain elements are present in your content pitch. Watch out for these deadly pitfalls that can break your chance in scoring a published guest post:

34. You didn't create an outline for your content
35. You didn't follow the outline that has been submitted to and pre-approved by the blogger
36. Wasting your time thinking of a complicated content that the blogger will only reject
37. You put the wrong link in the anchor text
38. You didn't double check the article for grammar lapses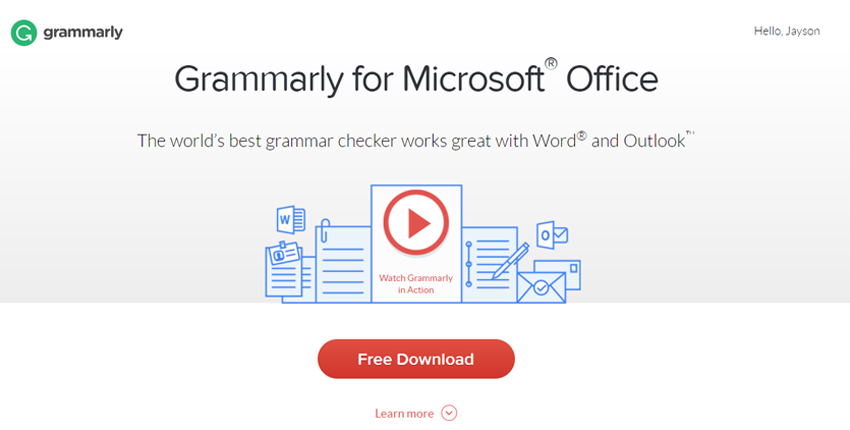 Try Grammarly to make sure you spellchecked everything first. Download the tool!

39. You didn't fact check your content or checked for duplicity.
40. You didn't properly cite your sources for the article
41. You're sharing outdated theories or practices in the article
42. You sent an article that was meant for another blog site
43. You simply sent the article after having it written without checking it first and applying the necessary edits

Relationship Building
We treat outreach and relationship building at the same level of importance; you'll never know when you'll ever need their help again! It's important to follow up and build your persona's authority. Forging relationships with bloggers open the doors towards more opportunities in the world of guest posting, so it's a must to be as polite and as courteous as possible. Mind your manners!

44. You forgot to thank the blog owner for posting your guest blog
45. You follow up to the blog owner like almost every day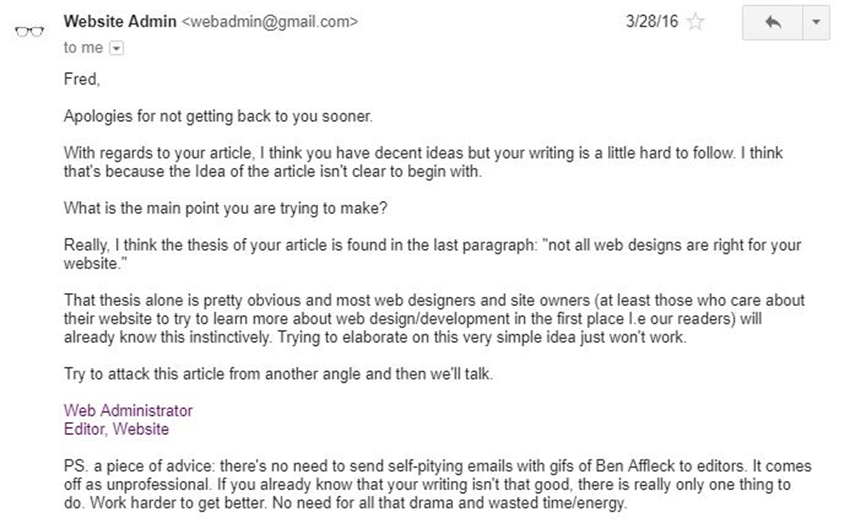 #realtalk from the blog owner. Not all people will appreciate your meme follow-up emails, so tread carefully.
46. The blog owner said they will publish your article and you still sending them follow-ups
47. You neglect your guest post after having it published (not responding to comments, etc.)
48. You didn't comply with the terms of agreement, like contributing regularly, etc.
49. You demand too much from the blogger after publication (because you forgot to put a link, etc.)

Not all bloggers are open to editing your mistake. Make sure that you send in the right article to the right person, with the right target client. Else, you'll end up wasting your efforts.
50. You did not inform the blogger that you will submit the content to another blog instead.

If you want to add more to our list of 50 mistakes in guest blogging, let us know in the comments section below!